SiMERR Hubs - A National Approach
The SiMERR National Centre has established a Hub in each state and territory. These Hubs work together with the National Centre in establishing links with teachers, education providers and relevant professional and community organisations within their own state or territory, identify research opportunities and priorities. Hub teams will also identify research opportunities and priorities, undertake research and professional development projects within their state or territory.
Each Hub is established within and supported by a university. Funding of the Hubs is shared on a cooperative basis by the SiMERR National Centre and the host university.
SiMERR Hubs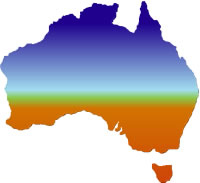 The location and Web link to the SiMERR Hubs are below:
SiMERR Queensland (James Cook University)
SiMERR NSW (University of New England)
SiMERR ACT (Australian Catholic University National)
SiMERR Victoria (Deakin University)
SiMERR Tasmania (University of Tasmania)
SiMERR WA (Curtin University of Technology)
SiMERR NT (Charles Darwin University)
SiMERR SA (a consortium consisting of
- Flinders University
- Australian Science and Mathematics School
- University of South Australia)
Click the icon that looks like this

to see the location in google maps.