The Australian College of Educators (ACE) presented the 2020 HTB Harris Memorial Award for a Significant Educational Program to the University of New England's QuickSmart intervention program on October 30th at the Armidale City Bowling Club.
The QuickSmart Numeracy and Literacy intervention program is based at the SiMERR National Research Centre, located at the University of New England in Armidale, Australia. Accepting the award on behalf of SiMERR was its Director, and QuickSmart co-creator, Professor John Pegg, and head of QuickSmart Numeracy, Mrs Anne Parnell, who also read the citation for the program.
The HTB Harris Award is bestowed upon a program or coordinated approach which solves an educational need or problem, with emphasis on innovative thinking, planning and action.
Professor Pegg said: "The idea of QuickSmart is that if at-risk learners are given a genuine second-chance to succeed, the results can be life-changing. Many tens of thousands of learners in Australia can now testify that this statement is true for them."
The assessment criteria for the award requires that the program in question fulfils an educational need or problem; demonstrates innovative thinking, planning and action; has been sustained over a period of time; involves a broad range of people; has evidence of assessment of success; and demonstrates influence beyond the original institution.
Professor Pegg was also presented with ACE's JA Sutherland Memorial Award at the ceremony in recognition of his many achievements throughout his career. This award is given to professional educators for significant contrition to education. Professor Pegg's citation was read by the Dean of the Faculty of HASSE, Professor Michael Wilmore.
For more information on QuickSmart, please visit https://simerr.une.edu.au/quicksmart/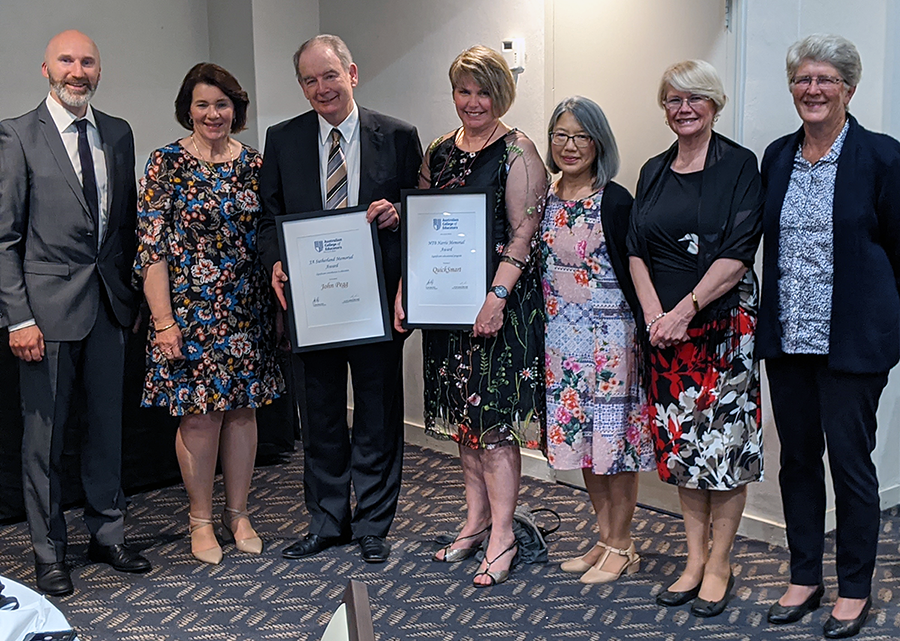 Photographed are (from left to right), Ambrose McDermott, Anne Parnell, Professor John Pegg, June Billings, Dr Eveline Chan, Associate Professor Joy Hardy and Dr Chris Reading.